Finding healthy Christmas dinner recipes can be daunting, especially if you have a lot on your plate. We've got you covered with a complete 4 course paleo meal for you and your family.
Previously, we've written about how to resist any temptation that makes you give up on your nutrition plan,
But we thought it would be awesome if you could follow holiday traditions without giving up on your healthy food habits. So our nutritionist, Cecilia, has come up with these excellent Christmas dinner recipes that will surprise all your guests while being completely healthy.
Happy holidays and let the next year bring you money and love, and let Mammoth Hunters bring you health!
CHRISTMAS DINNER RECIPES: STARTERS
PALEO HAM AND CUCUMBER ROLLUP

Ingredients
6 slices thick-cut ham
1 cucumber
6 green onion
3 teaspoon paleo mayonnaise
1 Jalapeño, diced
1 teaspoon dill
toothpicks
Instructions
Peel cucumber
Halve the cucumber lengthwise and cut each half lengthwise into four strips. Set aside.
In mixing bowl, combine paleo mayo, diced jalapeno & dill.
Spread over ham slices; place a strip of cucumber and green onion at the end of ham slices.
Roll cucumber around the ham and onion and secure by inserting a toothpick.
Slice Rollup into 3 edible sections.
PALEO SHRIMP
Serves 3
Ingredients
1lb of wild shrimp
1 Lemon
3 Cloves of garlic, minced
2 Tablespoons of olive oil
1/2 teaspoon of garlic power
1 Dash of red pepper flakes
4 Tablespoons of ghee
Instructions
Peel shrimp and butterfly them (making a cut in the back and extracting the vein).
Place shrimp in marinade: 2 Tablespoons ghee, 1 Tablespoon olive oil, lemon, garlic powder. Marinade anywhere from 15 minutes to hours (the more time, the better)
Heat 2 Tablespoons of butter in pan on medium to high heat.
Add shrimp and cook each side for 2-3 minutes. Drizzle with 1 Tablespoon of olive oil.
Top with salt, pepper, and red pepper flakes.
COCONUT AND MANGO SORBET
Prep time: 5 min
Ingredients
3 cups frozen mangoes.
1 tablespoon coconut butter.
1/2 cup of pineapple juice (orange juice would work too.)
1/4 cup coconut milk
Instructions
Dump the mangoes into either a food processor or a high speed blender.
Add the coconut cream, the juice, and the coconut milk.
Blend it all together, but don't walk away. Some blenders create some heat, so you really want to watch your texture. You want sorbet, not soup. Stop blending when you have the consistency of sorbet. If you go too far, just pop it back in the freezer a while.
PALEO CHRISTMAS DINNER RECIPES: MAIN COURSES
STUFFED BEEF TENDERLOIN
Prep:20 minutes
Cook:55 minutes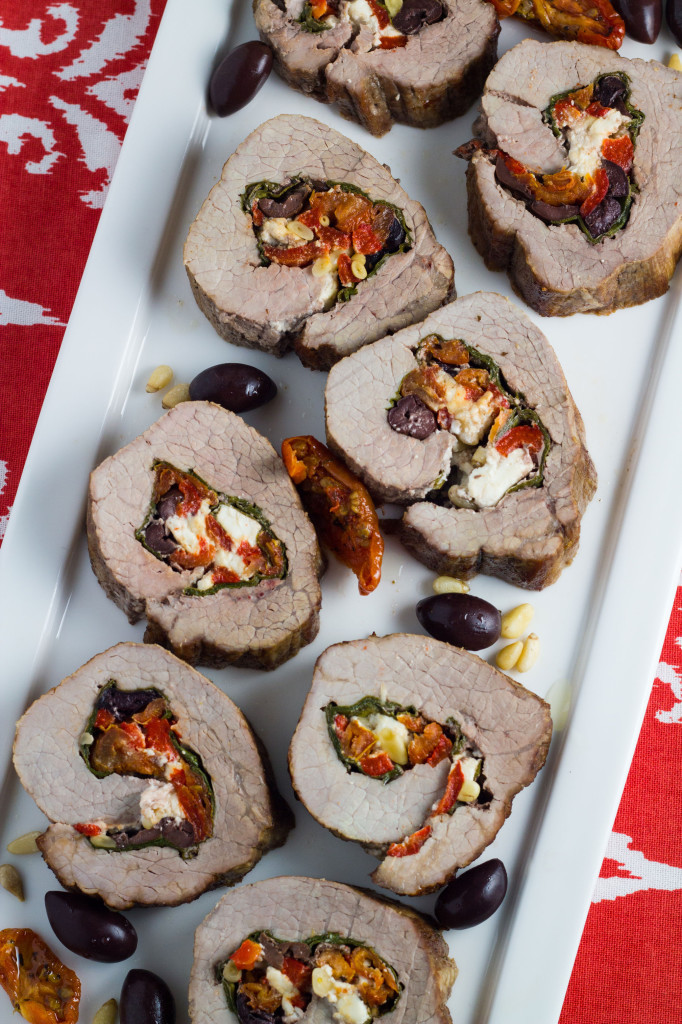 INGREDIENTS
1 whole Roast Beef Tenderloin, grass fed, grass finished, approximate size 2 ­ 3 lb, trimmed
1 cup Baby Spinach
1 whole Red Bell Pepper, small size, roasted, peeled, seeded and sliced thinly
16 pieces Kalamata Olives, pitted and sliced in half
12 pieces Sun Dried Tomatoes
1/3 cup Pine Nuts
2 Tbsp Extra Virgin Olive Oil
1 pinch Sea Salt
1 pinch Black Pepper
INSTRUCTIONS
Pre­heat oven to 420 degrees
Cut horizontally through the center of the beef tenderloin, cutting to, but not though the other side. Open flat like a book and then cover with cling wrap and flatten with a meat tenderiser.
In the following order, place the baby spinach, red capsicum, semi­dried tomato, Kalamata olives and pine nuts.
Tightly roll up beef, beginning with long side and either pin with toothpicks or secure with kitchen twine, making sure the stuffing is secure.
Rub olive oil over the surface of the meat. Season with salt and pepper.
Place in a baking tray and bake, uncovered for 40 ­ 55 minutes depending on how you like your meat cooked. The meat thermometer should read 140F; rare, 160F; medium, 170F well done.
Remove from the oven and let the meat rest for 15 minutes before serving.
Note: You may need to increase or decrease the quantities of the ingredients, based on your size of your beef tenderloin. Serves ­ dependent on size (1kg serves 4­6)
PALEO CHRISTMAS DINNER RECIPES: SIDE DISH
MASHED SWEET POTATOES
Prep time: 5 minutes
Cook time: 25 minutes
Serves: 4
INGREDIENTS
1 lb sweet potatoes
1/2 cup coconut milk
1 tbsp fresh grated ginger (or 1 tsp ground ginger)
1 tsp cinnamon
INSTRUCTIONS
Begin by cutting the sweet potatoes into cubes.
Place the sweet potatoes in a large pot of boiling water and cook for 25 minutes or until fork tender.
Drain the water from the pot, then add the milk, cinnamon and ginger.
Mash well.
Spoon into a large bowl and serve.
PALEO CHRISTMAS DINNER RECIPES: DESSERT
CHOCOLATE MOUSSE WITH CHILLI
INGREDIENTS
1 large, ripe avocado, such as Hass
2 ripe bananas
6 tbsp raw cacao powder
5 tbsp coconut cream (from the top of the can)
1/2 vanilla pod, seeds scraped out (or 1 tbsp vanilla extract)
2 1/2 tbsp coconut sugar, honey or maple syrup
Pinch of sea salt
3/4 tsp red chilli flakes
Optional Dark chocolate flakes, raspberries and chilli flakes for garnish
6 ramekins or small cups
Notes:
Recommended methods and timings:
One day before, place coconut milk or cream in the fridge.
Prepare the mousse 3-4 hours before guests arrive.
INSTRUCTIONS
Cut avocado in half and remove the seed. Scoop out the flesh and add to a food processor or blender together with chopped banana and cacao powder. Whiz up until smooth.
Remove contents to a large bowl, add coconut cream, vanilla, your choice of sweetener. Whisk using an electric blender until well combined, fluffy and smooth. Fold in salt and chilli flakes. You can serve right away but it's best to refrigerate the mousse to set for around 2-3 hour. You can set it in ramekins or small serving glasses. Refrigerate until guests arrive.
Prepare some garnish – dark chocolate flakes, raspberries and a little extra sprinkle of chilli flakes and set aside.
Last updated:
February 15th, 2017